RB-E type seriesSolvent Distillation Recycling System
Save resources and cut costs by treating your industrial waste.
Reduces industrial waste by... ...recycling used cleaning agents for parts, molds, jigs, etc. produced from various manufacturing processes. ...recycling used solvents for coating, printing and resin molding.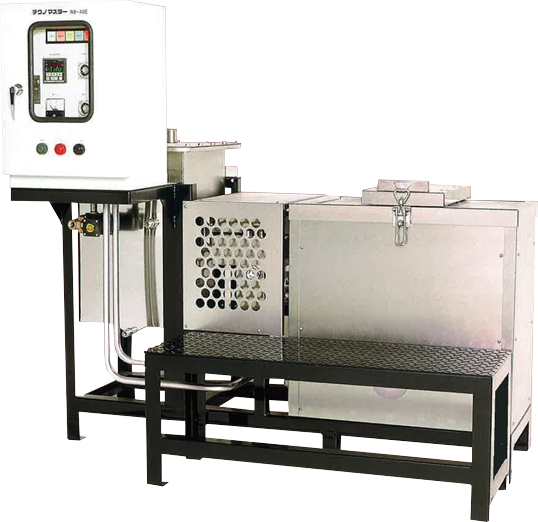 Applicable Solvents
Toluene,・ xylene・ methyl ethyl ketone・ methyl alcohol・ ethyl alcohol・
isobutyl alcohol・ isopropyl alcohol・ ethyl acetate・ butyl acetate・
acetone・ trichloroethylene・ perchloroethylene・ methylene chloride etc.
Solvents that are commonly used in the process. Solvents above and mixtures of these solvents can be recycled.
Design Concept
Safety Measures
Uses indirect heating through an

oil bath.

Uses atmospheric distillation that does not affect the pressure in the device.
Prevenst blockage of gas passages by foam liquid waste.
Countermeasures to deterioration of thermal oil.

Designed to prevent water from entering jacket.
Equipped with overheating prevention control.
Equippped with alarm to notify the need for exchange.
Safety measures for controlling electrical components
Output controlled by thyristor

Terminals include water failure alarms
Control panels are waterproof and blast-resistant under internal pressure
Standard temperature sensors and solenoid valves are blast-resistant
Electric heaters feature heightened safety
※Other safety features for handling are included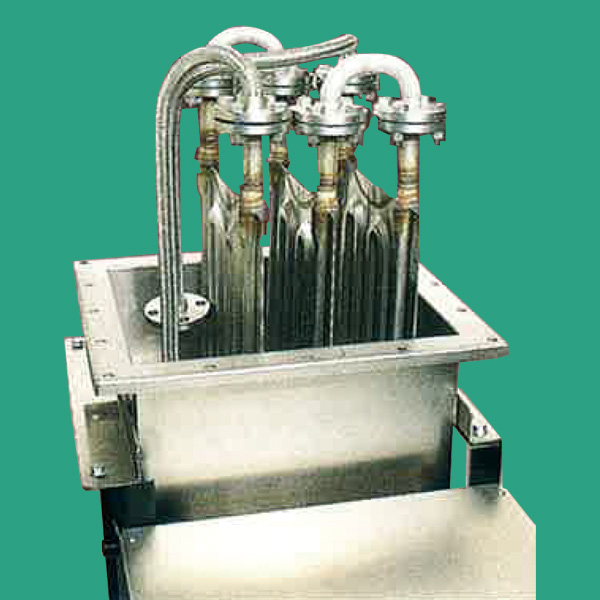 Functions and performance
Residues are easier to process since recycling process occurs every 18L container.
(except Type RB-100E )
Use of double-sided heat transfer surfaces and plate coils with the 18L containers balances evaporation and condensation.
Benefits
・High-quality solvents will be produced by this recycling system
・Reduces cooked-on residues and foul odors.
・Reduces corrosion through use of chlorine solvents.
・Viscous waste liquids can be reprocessed.
Compact size only takes small space.
Through the use of plate coils, refrigeration machines can be used to force cooling
(for example, to recycle methylene chloride)
Solvent distillation recycling system Type RB-20E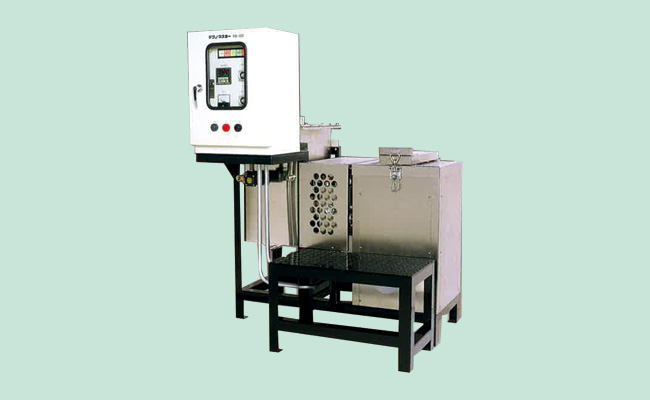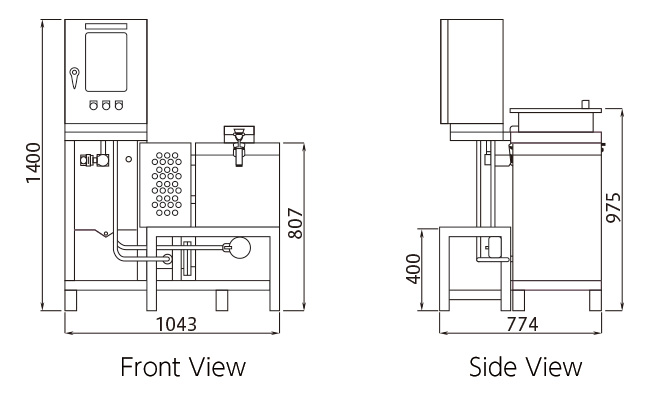 | | |
| --- | --- |
| Product name | Solvent distillation recycling system Type RB-20E |
| Recycling Process | Batch distillation of 18L container |
| Heating System | Indirect heating through an oil bath |
| Heat Source | 2.0 kW electric heater |
| Recycling Ability | 18L container / 3-4 hours |
| Cooling System | Plate coil automatically pours in water |
| Power Source | AC single-phase 200V 50/60Hz |
Solvent distillation recycling system Type RB-40E"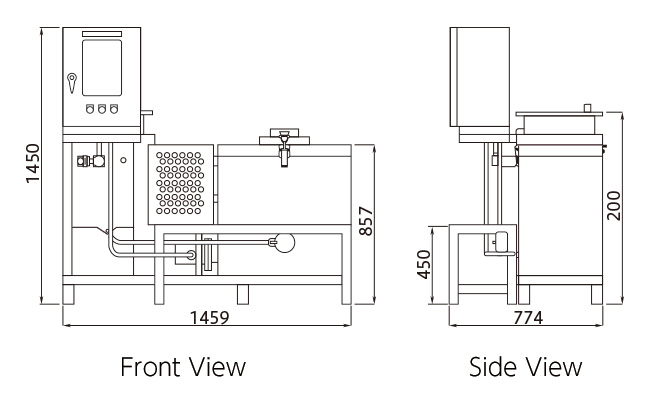 Product name
Solvent distillation recycling system Type RB-40E
Recycling Process

Batch distillation of 18L container

(May use optional 50L container)

Heating System

Indirect heating through an oil bath

Heat Source

5.0 kW electric heater

Recycling Ability

18L container / 3-4 hours

(For optional container- 50L container/4-5 hours)

Cooling System

Plate coil automatically pours in water

Power Source

AC single-phase 200V 50/60Hz

Heat Source

10 kW electric heater
Solvent distillation recycling system Type RB-80E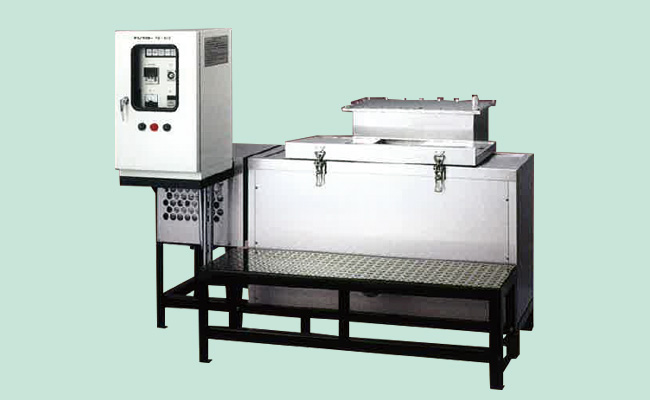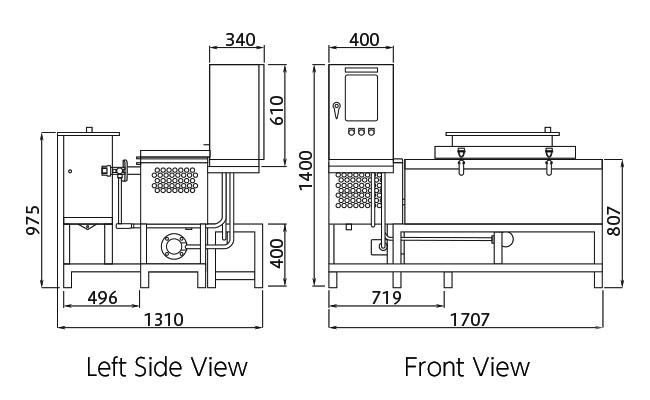 Product name
Solvent distillation recycling system Type RB-80E
Recycling Process

Batch distillation of 18L container

(Option: may use two 50L container)

Heating System

Indirect heating through an oil bath

Heat Source

10 kW electric heater

Recycling Ability

18L container / 3-4 hours

(For optional use: two 50L container/ 4-5 hours)

Cooling System

Plate coil automatically pours in water

Power Source

AC single-phase 200V 50/60Hz

Heat Source

10 kW electric heater
optional

50ℓInner container

Type RB-40Einner container

Type RB-80Einner container
・Water failure alarm system
・Automatic cooling water circulation apparatus
・50L waste container(inner container)(Type RB-40)
・50L recycled fluid container(Reciever)(Type RB-40)
・100L recycled fluid container(Reciever)(Type RB-80)
2-8-11 Higashi-Nihonbashi, Chuo-ku, Tokyo 103-0004 Japan
03-5687-1931 weekday9:00-17:00
03-5687-1933 24 hours reception
Contact Us
03-5687-1931