SUNECON KR-303
Removes water-soluble/mild rust and oil stain simultaneously
SUNECON KR-303 is a core product of SUNECON series specially developed for removing metal rubber molds. This cleaning agent removes adhering dirt of burnt rubber, carbonized rubber processing agent and parting agents instantly.
Mold Cleaning Agents
Can be used with[for] zinc or aluminum die cast molds or molds for rubber.
Cleaning Agents
The SUNECON cleaing agents removes stubborn grease and tar stains quickly.

RB-E series solvent distillation recycling system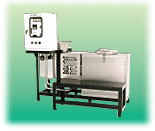 Save rersources and cut costs by treating industrial waste.
- Recycling used solvents for coating and printing.
- Recycling cleaning agents for parts, molds, jigs, etc. used in various manufacturing processes.
Automatic washer of metal molds for rubber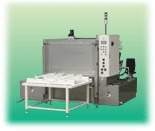 [Washing apparatus]
Automatic washer of metal molds for rubber CBD-2R (for use only with SUNECON KR-303H).
- Completely closed system circulates cleaning agents without allowing any liquid to escape. - Cleans molds without damaging them or wearing them down. Leaving no dull deposits on plating. - Set the mold on the system and it will automatically clean the mold complety.

Mold Cleaning Agents.Cleaning Agents.Masking Agents.Rust Prevention Agents.Rust Removers.
Copyright(c) TAIYO CHEMICALS & ENGINEERING CO.,LTD. All rights reserved.