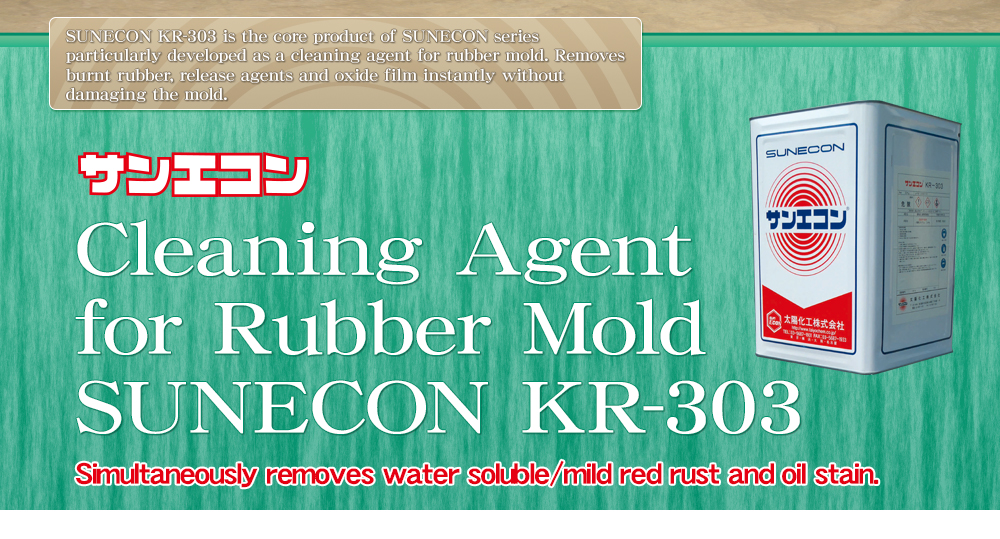 Rubber Mold Cleaning Agent SUNECON KR-303
SUNECON KR-303 is a rubber mold cleaning agent which has received high reviews from customers for many years.
SUNECON KR-303 may be diluted with water depending on the degree of stain/dirt.
Usage
Cleaning molds for various rubber materials.
*Can instantly remove carbonized vulcanizing agents and stain from releasing agent.
Can also remove mild red rust simultaneously.

Cleaning (ultrasound cleaning), removing carbon and degreasing for mold for resin molding.
Appearance and pH
Transparent pale yellow liquid
Strong Alkaline
Packing
Domestic: 20 kg can, 200kg drum can
Export: 25 kg UN can, 200kg UN drum can
Use Conditions
Spraying Method
Please apply and spread the diluted agent while mold is still hot (mold must be 100℃ or higher). Please wash off softened and separated dirt with water, before dirt hardens.
*We recommend recollecting used agent since it may be used again.
Immersing Method
Please place the mold into stainless iron bathtub with diluted agent and heat it to 70℃~100℃.If the mold is hot, agent does not have to be heated.
After dirt softens and separates from the mold, take out the mold and wash the agent off with water.
*Since water evaporates while heating, please add water to adjust the amount of solution.
*If there is no heating system, please place the hot mold (100℃ or higher) into the bath of room temperature agent.
*For both application method and dipping method, please use brush if needed.
Handling Warning
After cleaning, carefully wash off the agent with water.
Please use cotton towel to wipe hot mold.
Please do not use it on aluminum, zinc, and any other material that dissolves in strong alkaline solution.
Please use GHS label note for proper usage. Please note that SUNECON KR-303 is applicable to the Poisonous and Deleterious Substances Control Law.
*For more detailed information about safety and related laws and regulations, please refer to the safety data sheet (SDS).