SUNECON E-7200Electrolytic cleaning detergent
Electrolytic cleaning detergent SUNECON E-7200
A detergent developed for electrolytic clening device to clean dirt adhesion after molding, steel skim, bavkas, and smut
Used in various electrolytic cleaning device
stains stuck to mold when molding. grease(hardened oil) stuck to the surface of steel. affect physically and chemically. clean up to every corner.
do not conflict poisonous and deleterious substances control act ,fire services act, nor PRTR law.easy to handle.
anode, cathode, PR could be choosed depending on the polarity.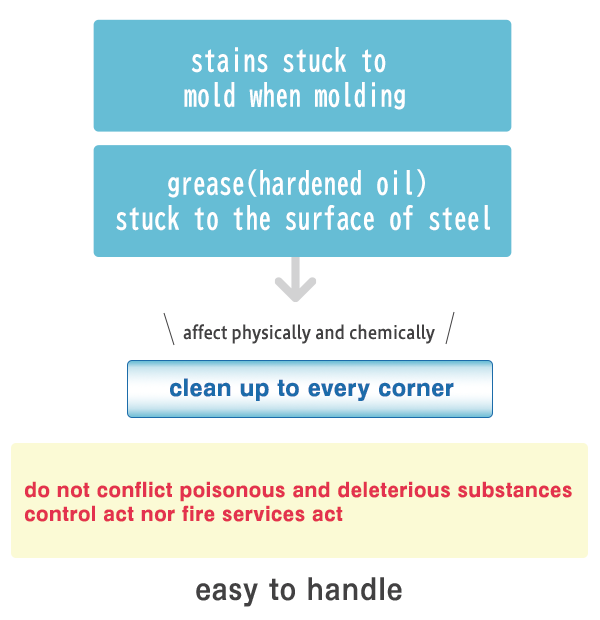 E-7200
Name
E-7200
properties
strong alkine
Main uses

cleaning of the mold [cleaning time:10~30min/ ]
(PC, PBT, ABS, PP, PPS, PA, LCP resin)

clean mineral oil and hardened oil.

remove bavkus and smut.

features
appearance
light yellow and transparent
odor
none(before and after clening)
How to use
Temperature
room temperature~50℃
Concentration
undiluted solution
Usage

electrolyc clesnsing

related law
poisonous and deleterious substances control act
-
fire services act
-
Industrial safety and health act

applicable

sodium hydroxide

PRTR
-
water pollution prevention act
pH,C.O.D, B.O.D
notation

do not use aluminum nor zinc to prevent the occurrence of hydrogen gas.

wash thoroughly to prevent the effect of alkine residue.

blow after washing, and spray the anti-rust.

※ SUNECON NR-JW is recommended

be sure to wear rubber glove, glass ,etc.

be sure to wash off when stuck to skin or eye, and consult to doctor when needed.

※ consult the safety data sheet for more information.

※ use SUNECON E-7200H for rubber mold clesning device.

packing

20kg can

Contact Us
2-8-11 Higashi-Nihonbashi, Chuo-ku, Tokyo 103-0004 Japan
813-5687-1931 weekday9:00-17:00
813-5687-1933 24 hours reception
Contact Us
813-5687-1931